Credits

"The Princess and the Power" (32 pages)
writer: 
Greg Potter
George Perez

art: 
George Perez
Bruce Patterson

colors: 
N/A

letters: 
N/A

editor: 
Karen Berger

xxx
Entertainment Weekly's Ultimate Guide to Wonder Woman 1984 features George Perez's art on its cover

posted Jan 14, 2021, 5:09 AM 
From Vu
You can preview some pages from the recently released Ultimate Guide to Wonder Woman 1984 by Entertainment Weekly on
Amazon
. 
Looking over the contents, it does not appear they will reprint any George Perez's art (unless it appears in the ridiculous WW plotlines from comics).
The cover does reprint Perez's Wonder Woman... so for completists, you'll need to look for this at newsstands. The magazine came out 8 Jan 2021.
Here's the description of the magazine:
>>>
Diana Prince returns to the big screen in Wonder Woman 1984, a totally rad new adventure that will have fans falling in love with the DC Comic superheroine all over again! In this gorgeously illustrated special issue devoted entirely to the Amazonian Princess, the editors of Entertainment Weekly celebrates Wonder Woman in all her forms: from her groundbreaking girl-power comic book debut 80 years ago to the beloved 1970s TV show starring Lynda Carter to Gal Gadot's action-star spin on the first superheroine in 2017's Wonder Woman. Includes:
Behind-the-scenes photos and exclusive interviews with stars Gal Gadot, Chris Pine, Kristen Wiig, Pedro Pascal and director Patty Jenkins
The evolution of Wonder Woman's comic roots, from prim skirts to go-go boots to her modern-day armor
The surprising story of Wonder Woman's creator—the man who dreamed up her Golden Lasso of Truth also invented the lie-detector test and much more!
Please note that this product is an authorized edition published by the Meredith Corporation and sold by Amazon. This edition is printed using a high quality matte interior paper and printed on demand for immediate fulfillment.
George Perez on Comic Boom bookmarks

posted Feb 8, 2020, 7:53 PM
From Vu
Brazil comic book store, Comic Boom, is releasing what appears to be bookmarks of comic book creators.

The first wave
will feature 10 Masters
: George Perez, John Buscema, Angeli, Steve Ditko, Joe Shuster, Will Eisner, John Romita Sr, Osamu Tezuka, Jose Luis Garcia-Lopez, and Aurelio Galleppini.
Special Moments Memories Collection: Wall Art Reproduction Encadree are perfect for framing comic books

posted Jun 30, 2018, 8:54 PM 
I love comic books, and for a time, I thought about framing some of my books for display. Unfortunately, because of the odd shape of comics (6.63" x 10.24"), you basically need to order a custom frame. I have inquired about custom frames before, and the quote I got back (with "Museum-quality glass" and acid-free matt) would cost about $80.
Earlier this week, I discovered these 7x11
Special Moments Memories Collection: Wall Art Reproduction Encadrée
prints at
Dollar Tree
for $1 each. This size is nearly perfect for comics, the width is just about right, but the height is slightly taller than modern sized comics. It's hardly noticeable, though.
I know it's not meant for comics, but if I were head of the Special Moments people, I would recycle these frames and market it to comic collectors. Maybe upgrade the backing to a firmer acid-free cardboard or "comic book styling" frames. Charge about $5 to $10, and I can guarantee you can sell them.
Anyway, I bought 15 prints, and one of them was defective. At $1 each, I'm not going to complain... but just inspect your frames when you make your purchase. I pulled out some comics I thought is worth something or have a special meaning for me. Some are autographed, some I just like the cover artwork. It was kind of fun to go through some of my comic boxes.
Some tips when you put your comics in:
Use brand new bag and board, you don't want to put your comics in naked.
Use standard sized books; double-size or monster anniversary books don't fit in too well.
Flip the art print to show the plain white back to blend with the comic book backing board.
If the metal hanger on the back is horizontal, you can move it to vertical by removing the tape behind the cardboard.
I didn't really care what the frames looked like, but if you have a preference, there seems to be four types of frames: Black, Gold, Gold with Bumps, and Brown with Gold Bumps.
If you don't live near a Dollar Tree store, their website sells these frame size (7x11) by the case - 24 frames for $24 - via
dollartree.com
. You might not have 24 comics you want to frame, but at that price, it's still cheaper than one $80 custom frame.
posted

Jun 26, 2018, 7:16 PM

by Vu Nguyen   [ updated

Jun 27, 2018, 7:32 AM

]
From Vu

I absolutely love
Dollar Tree
. Everything in their store is $1, what a deal! I discovered these 7x11 art prints in their store, they are perfect for displaying your comics!  The height is only slightly taller than modern sized comics, but it's hardly noticeable (see photo). 
If you don't live near a Dollar Tree store, their website sells these frame size (7x11) by the case - 24 frames for $24.
dollartree.com
UPDATE: There are many UPCs, but the two I bought were:

Special Moments Memories Collection: Wall Art Reproduction Encadrée

UPC: 639277372635 (flower painting)

UPC: 639277369123 (New York painting)

Wonder Woman: Easter Eggs!

posted Jun 9, 2017, 5:31 PM by Vu Nguyen
The Untold Tale of the Comics Story That Redefined Wonder Woman

posted Jun 1, 2017, 7:55 PM by Vu Nguyen
From
vulture.com
The Untold Tale of the Comics Story That Redefined Wonder Woman
By Abraham Riesman
June 1, 2017
4:28 pm
As 1986 dawned, the most famous woman in superhero fiction was in trouble, and not the fun kind. Wonder Woman faced a deadlier villain than any preening megalomaniac or gimmicky sadist: irrelevance. "For almost four decades, there really had been almost no memorable Wonder Woman stories," recalls Paul Levitz, comics historian and longtime executive at the character's publisher, DC Comics. "Stories were just sorta there for the month. It was unusual for one of the legendary characters of the comics field to have that long a dry spell."
Then, along came George.
If you stick around for the end of the credits at this weekend's Wonder Woman, you'll see a list of comics creators the producers wish to thank for cooking up ideas that influenced the film. One name appears at the top of that list, bigger than all the others and given the pride of an extra line break: George Pérez. If you've achieved a certain level of comics geekdom, you'll know full well why that's the case. Thirty years ago, Pérez — a writer and artist of astounding talent — became the man who reinvented Wonder Woman and told what is arguably still her greatest story.
[ Read more on vulture.com ]

Wonder Woman film influenced by George Perez's books

posted Apr 8, 2017, 11:07 AM by Vu Nguyen
At the Wonder Woman panel at WonderCon, when asked if DC was staying true to the Wonder Woman source material, DC Entertainment Chief Creative Officer Geoff Johns answered, "We've really pulled from all the comics, obviously the original ones. George Pérez, all of his books. That was a big influence. New 52. Greg Rucka. Phil Jimenez. We look at all those comics — you're panning for gold, and you're just getting gold every time."
Read more at cbr.com
Phil Jimenez's Teen Titans #18 variant cover

posted Feb 23, 2016, 5:26 AM by Vu Nguyen [ updated Feb 23, 2016, 6:24 AM ]
Wonder Woman Rebirth closer to George Perez's vision?

posted Feb 19, 2016, 1:05 AM by Vu Sleeper
There is an unlisted DC Rebirth video suggesting the new Wonder Woman Rebirth will be closer to George Perez's vision of the Amazing Amazon, according to
bleedingcool.com
.
Wonder Woman
#1 will ship twice monthly, starting in June 2016.
CBR's Wonder Woman artist poll - results

posted Dec 23, 2014, 10:52 AM by Vu Nguyen
Comicvine: Wonder Woman's Best Covers

posted Dec 3, 2014, 11:20 AM by Vu Nguyen [ updated Dec 3, 2014, 2:27 PM ]
Wonder Woman's Best Covers

By Gregg Katzman November 21, 2014 5:25 PM
Way back in 1941's
ALL-STAR COMICS #8
,
Wonder Woman
made her debut. Little did the world know this powerful heroine from
Themyscira
would eventually become one of the planet's most iconic superheroes and appear in an overwhelming amount of comics. Those comics have featured an impressive amount of terrific covers and we had the incredibly difficult task of selecting just ten awesome ones. Seriously, it was't easy narrowing down the options. Obviously, there's dozens upon dozens of great covers focusing on our latest Character of the Month, so if your top ones aren't below, go ahead and post them in the comments.
(excerpt)
WONDER WOMAN #1 (1987 series)

Yes, this draws parallels to the cliche "throw everything on it!" movie posters we often see, but there's two very big reasons why this is making the list. First and foremost, this is by the hugely talented George Pérez. There's a ton of variety going on here and Pérez makes it all flow together very well. Secondly, this does a fantastic job pulling us into Wonder Woman's world. These aren't just heads floating near Diana as she stands in the center; they help tell the story and show us both the beauty and danger that Diana's world has to offer.
WONDER WOMAN #31 (1987 series)

Pérez's cover for WONDER WOMAN #31 says just about everything you need to know about the issue. Wonder Woman and Cheetah have clashed time and time again, but this one piece of artwork displays all of the ferocity and relentless you can expect to find within the issue. Drenching the characters in darkness and placing them in front of the bright and bloody moon -- which does turn red in the comic -- is downright awesome and lets you know they sure mean it when they're using the word "savage." This cover really does a perfect job letting you know the battle between Wonder Woman and Cheetah is totally gripping.
George is currently #1 in CBR's Wonder Woman artist poll (which closes Dec 23)

posted Nov 25, 2014, 5:04 PM by Vu Nguyen
Who is Your All-Time Favorite Wonder Woman Artist?
This poll opened
Sunday, November 23rd
and will close at
05:00am PST on Tuesday, December 23rd, 2014
.
With David Finch taking over art duties on DC Comics' "Wonder Woman" this week, who stands as your all-time favorite Wonder Woman artist?
| Rank    | Option | Percentage    | Votes |
| --- | --- | --- | --- |
| 1 | George Perez       | 27.9% | 934 |
| 2 | Cliff Chiang | 17.9% | 598 |
| 3 | Adam Hughes | 15.3% | 512 |
| 4 | Phil JImenez | 7.9% | 265 |
| 5 | Terry Dodson | 7.7% | 256 |
Wonder Woman digital comics on sale (sale ends 6/27/11)
posted Jun 25, 2011 4:55 AM by vu sleeper
From Vu
DC Comics is having a sale on its Wonder Woman digital comics at
ComiXology
.  As you can see from the images below, WONDER WOMAN #2-24 are finally available in digital.  I don't need to tell you that even at a 99 cents sale, the price is still well above the original 75 cents cover price.  To its credit, there are no advertisements in the digital version.
I'm also very unhappy at ComiXology iPad application, which crashes all the time (especially on first launch).  It's annoying, real comics don't crash when you open its pages.
Digital comics: Why they still sucks
posted Jul 11, 2010 10:41 AM by vu sleeper
From Vu
Over the weekend, we saw a few George Perez comics available digitally - Wonder Woman #1 (Feb 1987) and the entire Infinity Gauntlet series (1991).  The later made sense because Marvel recently reissued
Infinity Gauntlet in a deluxe hardcover
(available in stores July 14th), so they probably already digitalized and enhanced the pages for reprint.
As I have previously mentioned, I really think the future of comics, especially for strictly reading, is digitally.  Since getting my iPad, I have been downloading comics to read - however, the main problem I have is that all the books are OLD.  Nobody wants to read
Astonishing X-Men
from 2004, we already own the physical comics or trades.
I also have a big problem with pricing.  The original price on Wonder Woman #1 is 75 cents, but the digital comics is 99 cents. What's wrong with that picture?  You can argue that because there are no advertisements in the digital version, that you're making up for that cost - however, I
DO NOT
mind advertisements if it means a lower price.  In fact, sometime I actually enjoy or appreciate advertisements as it keeps me in the loop when it comes to pop culture. 
And really: WHO HASN'T READ or OWN that issue ???  I own the original, Millennium edition, and the first Wonder Woman trade paperback.  The issue should be free as an introduction to new readers, as far as I'm concern.
Anyway, Marvel sort of got it right, they gave the first issue of Infinity Gauntlet for free, but the rest of the series will cost you $1.99 each. If you want to read the entire epic series, it will cost you $10, well below the $25 trade paperback.  Which also brings me up to the point that I just wish they'd sell "trade"/collected bundles at a discounted price.  Twenty-four pages is much shorter than you think.
The other thing I'd like to see is a subscription model: 12 issues of the latest Batman for a discount. 
What about "Mystery" random bundle, you know $4.99 for 10 comics, what a great way for you to discover new books (since it knows what you already downloaded, you'll never get a dupe).
At the moment, both the
Marvel app
and
DC app
the Comixology engine, and as nice as it looks, it's not perfect.  Searching is still a problem, you're limited to what you can search - and you also have to drill down and know what you're searching for.  Comixology occasionally crashes, especially if you're listening to your music.  I don't like the look/design/interface. Would love to software lock the rotation to read only in vertical without having to physically lock the rotation on the iPad.  Would also like a way to organize them (like grouping all the X-Men under a folder by series or artists, instead of displaying all the books I own).  Would also love to export it to my computer or other devices.  Maybe the ability to lend or give a copy to a friend ?  You can do that with real books, you know.
Me? I still buy the floppies, but I don't always have time to stop in the comic store.  I just want to read or preview the comics, when I'm on the road.  I still prefer the printed books, so that's not really going away anytime soon for me.
Wonder of Wonders #8: WAR & PEACE: GIFTED
posted ??Oct 19, 2009 4:50 PM?? by vu sleeper
From
comicbookresources.com
Wonder of Wonders: WAR & PEACE: GIFTED
By
Robert Jones, Jr.
Wise as Athena. Beautiful as Aphrodite. Stronger than Hercules. Swifter than Mercury. These descriptions seem pretty straightforward, but surprisingly, the most consistent thing about Wonder Woman's powers and abilities is their inconsistency. How strong, fast, smart, resilient and capable she is varies wildly from story to story. Often, writers seem unsure about how powerful she is and allow the stories to dictate her capabilities as opposed to writing to her physical and other strengths.

(excerpt)

Perez's Wonder Woman
The Perez Doctrine
At birth, Wonder Woman was granted superhuman abilities by five Olympian goddesses and an Olympian god. As she grew and matured, so did her powers. And, according to "52" #11, her abilities are, at their peak, equal to the Olympian gods who bestowed them upon her - unlike the similarly-powered Captain Marvel, who receives only a portion of his benefactors' abilities.
Comics And: No Lynda Carter Here
posted 4 minutes ago??Oct 4, 2009 3:07 PM?? by vu sleeper
From 
comicsand.blogspot.com
No Lynda Carter Here
Sunday, October 04, 2009
Posted by Thomm

Coincidental to Jim's post on who's an A lister amongst comics super-heroes, I'm revisiting 1987 and the post-Crisis re-birth of Wonder Woman. While many find the John Byrne re-boot of Superman to be definitive of that character, and I certainly enjoyed the six issue Man of Steel, I've found this series to have held up better over time. George Perez's art has certainly stayed popular with the fans longer.
In the inside cover of the first issue, there's a little background from Perez about how he came to be on the book. What was originally a volunteer moment for a limited number of issues turned into a long term, open ended commitment. It was also vastly to the good of the book. The writer in the first two issues was Greg Potter, of whom I know nothing. Perez was the second bill as co-plotter and pencils, but that inside cover introduction was a sure foreshadowing of who would be controlling where this book went. By the third issue Perez had top billing as penciller and co-plotter while Len Wein came on as writer and co-plotter.
[ Read more 
No Lynda Carter Here
]
Berlatsky's Only One Can Wear the Venus Girdle, Part 4
posted Feb 19, 2009 12:32 PM by vu sleeper
From
hoodedutilitarian.blogspot.com
Only One Can Wear the Venus Girdle, Part 4
Wednesday, February 18, 2009
Posted by

Noah Berlatsky
at
8:11 PM
This is my fourth post on Wonder Woman this week; for the earlier ones see
one
,
two
,
three
.
(excerpt)

Time passed, and with all the filling up with bile and what-not...well, anyway, I haven't read or much thought of either George Perez or his run on Wonder Woman in a long, long time. But since I was writing about Wonder Woman, I thought I'd disentomb the back issues from the fossilized long boxes, redistributing large piles of lint and small piles of cats.
So, now that I've reread these things for the first time in at least a decade, what's the verdict?
First, and somewhat inevitably, I have to admit that Perez is no longer one of my favorite artists. Not that I think he's bad, by any means. He's obviously quite technically gifted, and he has an especial gift for faces. I actually remembered the sequence below, where Diana first does her bullets and bracelets thing, and I still think it's pretty great, with a lot of the expressive charm that I appreciate in good shojo: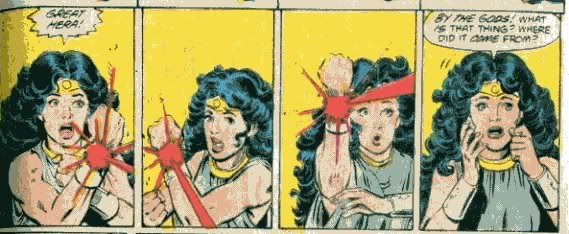 [ Read more
Only One Can Wear the Venus Girdle, Part 4
]
Ranking the Runs on Wonder Woman
16 July 2008, 7:10PM CDT by vu (vu sleeper)
From
winterfell.blogs.com
Ranking the Runs on Wonder Woman
July 16, 2008 by Chris Fluit
Last fall, I wrote a series of in-depth reviews of the George Perez run on Wonder Woman that launched the second volume of that title.
...
(excerpt)
#1: George Perez, issues 1-62
What's Good: If you read my reviews from last fall, then you already know what I think is good. First and foremost, there is the incredible George Perez art. There's such attention to detail, such beauty, such variety of panel and page construction. But the George Perez run is not just about the beautiful art. Perez also does an excellent job of world-building. He crafts four separate environments for Wonder Woman, each of which has their own complexities, relationships and distinctiveness. There is Olympus and the pantheon of the Greek gods; there is Themyscira, Paradise Island, and the Amazon women; there is Boston, Wonder Woman's new home in patriarch's and her friends that live there, Julia and Vanessa Kapatelis; and there is the U.S. military with its friends and allies and enemies, most notably Etta Candy and Steve Trevor. Against the back-drop of these settings, George Perez alternates between epic stories with big villains like Ares God of War, the Cheetah and Circe and intimate personal stories such as the death of a friend in "Who Killed Myndi Mayer?"
What's Not Good: I have two complaints, one of which is minor; the other more significant. The minor complaint is that, like a lot of '80s comics and television shows, George Perez's Wonder Woman had a certain earnestness when dealing with social issues that sacrificed story for message. The more significant complaint is that the run went on a little too long. The last year, from issues 51 to 62, were confusing, especially when Perez tried to use Wonder Woman as an anchor for the "War of the Gods" crossover.
CBG #1624 Features Meltzer's Favorite Covers
News | Sat, 20 Jan 2007 15:07:15 CST | Ilke

From Ilke
Comics Buyer's Guide #1624 (released in October 2006) includes Brad Meltzer's comments on his '10 Favorite Covers,' and 4 of them were drawn by George:

- The New Teen Titans (Vol.1) #4
- The New Teen Titans (Vol.1) #39
- Justice League of America #195
- Wonder Woman (Vol.2) #1

>>>
COMICS BUYER'S GUIDE #1624 (January 2007)
Posted: 10/11/2006 8:50:59 AM

(excerpt)

It's been 10 years since Marvel "reimagined" a batch of its major characters in the "Heroes Reborn" universe and Comics Buyer's Guide #1624 celebrates the anniversary event with an advance peek at the upcoming Onslaught Reborn mini-series written by Jeph Loeb with art by Rob Liefeld, who also provides this issue's cover. The duo talk about their experiences then and now in an exclusive interview.

Our coverage of NBC's new Heroes series continues with interviews with series creator Tim Kring and actor Masi Oka who plays Hiro Nakamura. Click here for details on how you can win one of eight promo comics from the show.

Geppi's Entertainment Museum opened to the public in September and CBG Editor Maggie Thompson was on hand for the festivities. Check out her multi-page report this issue!
On Harsh Criticism
News
Tue, 05 Dec 2006 18:38:45 CST
Vu
From ragnell.blogspot.com
On Harsh Criticism
Monday, December 04, 2006 - posted by Ragnell @ 11:37 PM

(excerpt)

So with Mama the Foul placated I was planning to, in the spirit of tradition, saturate this blog in the dubious pleasure of being completely unfair to some poor schmuck who was just trying to bring some joy into the collective heart of fandom and educate the comics blogging community about all of the numerous flaws in George Perez's Wonder Woman reboot. However, I've rambled on long enough for one post, and there really isn'?t enough memory on Blogger to accommodate a detailed explanation of everything that was wrong with George Perez's reboot of Wonder Woman. Still, if tomorrow I find myself in a foul mood towards comic book creators again, this would be a safe rant to expect.
First Post
News
Fri, 01 Dec 2006 13:06:19 CST
Vu
From acomicbookgirl.livejournal.com
First Post
2006-11-30 21:58:00 by acomicbookgirl

(excerpt)

I've collected comics for years. Was once involved with an artist. Went to my first San Diego Comic Con this past July. Yet its only now that i'm comfortable in calling myself as a fan girl. I don't know why I was uncomfortable that in the past. I'm not hiding it anymore. :) I recently joined Livejournal and was looking for communities and discoverd this one. :)

Judd Winick is the reason why I fell in love with comics. It was George Perez who made me fall in love with Wonder Woman. It was Grant Morrison who made me fall in love with Emma Frost. Geoff Johns made DC less complicated like that.
Earth-Smorgasbord
News
Thu, 09 Nov 2006 18:48:37 CST
Vu
From blog.newsarama.com
Earth-Smorgasbord
Thursday November 9, 2006, 12:00 pm
Posted by Tom Bondurant

Let's say that, somehow or another, DC will manufacture a (singular) parallel world...

(excerpt)

So, with all that said, who makes the cut for Earth-Smorgasbord's freshman class? Superman, Batman, and Wonder Woman are givens, considering their place in DC history. For the most part they haven't been changed - at least not in any significant Jay-to-Barry way — and I doubt they would be on Earth-Smorgasbord. I would use the current version of Wonder Woman, as revamped by George Perez et al. and developed by many others, if it makes a difference.
 From www.philly.com
Wonder Woman turns 65
By JEROME MAIDA
Posted on Wed, Jul. 05, 2006

AS WONDER WOMAN celebrates her 65th birthday with an impressive relaunch of her comic series by writer Allan Heinberg and artists Terry and Rachel Dodson, it is clear that the character is an icon that transcends the comic-book world.

(excerpt)

Then in 1987, DC relaunched the character with a new #1, spearheaded by George Perez, who emphasized the character's mythological roots.

For two decades, his interpretation has been considered the definitive version of character and has influenced all subsequent writers.

But after just one issue, Heinberg's 2006 relaunch seems poised to redefine Wonder Woman for years to come.
 From John Byrne Messageboard
Topic: Mr. Byrne....Q about Fearbook
Posted: November 25 2004 at 2:32pm

When I was offered WONDER WOMAN there were a lot of things that came immediately to mind -- not the least of which being that I would have to be out of my frigging mind to follow George Perez, even if it was ten years later.

One of the actual story concepts that came to me, tho, in the midst of my fear and trepidation, was to wonder just how our Decent, God Fearing Nation would respond to a woman who was walking around claiming to have, you know, actually met the Greek Gods. Bound not to sit too well with the Jerry Falwells, I figured.

Unfortunately, this also seemed like a story that I could not really handle properly in a monthly superhero comic. (Hey! This was ten years ago! Today, I know, I could do 200 pages of Wonder Woman pacing her apartment worrying about all this. Now that's comic books!) Then I was asked to do the novel, and I realized that was a perfect place to explore all the themes this idea suggested.
 November 3, 2003 | WW Turns 200

From Newsarama
RUCKA, COHEN TALK WONDER WOMAN #200
posted 11-03-2003 04:46 PM by MattBrady

(excerpt)

Yes, she has been here before, but in January, DC's Wonder Woman hits #200 in a double-sized issue with plenty of extras. In addition to the main story, the special issue has back ups, set ups for the next year, and pin ups. It's also got Greg Rucka writing and Ivan Cohen editing, and we chatted them up.

First off, yes, this is the second time past the #200 mark for Wonder Woman at DC. The first series (which started in 1942) hit the mark in 1972, and ended with #329 in 1986 – a direct result of Crisis on Infinite Earths. The current Wonder Woman series (with a revised origin and written and drawn by George Perez) started in 1987, year after the first concluded.
 November 1, 2003 | WW: Ultimate Guide Available Now

From Vu
According to us.dk.com the item ships November 3rd, but it is already at book stores.

Looks like the direct market (aka Diamond) lost once again to the book market. If you ordered this book through Diamond, look for it sometime next Wednesday (if it makes it at all).

To be fair, Diamond's distribution have always been bad of any products outside of comic books. Do not even think about ordering a DVD from them, chances are the DVD will be available long before Diamond gets a hold of it.

I did flip through the book and there are a lot of reprinted material from George Pérez's WONDER WOMAN #1 as well as other issues. The other interesting thing is that the cover is by Adam Hughes, instead of Phil Jimenez.

From us.dk.com:

Wonder Woman - The Ultimate Guide to the Amazon Princess
Scott Beatty - Author
Roger Stewart - Illustrator
$24.99

Book: Hardcover | 10.27 x 12.16in | 144 pages | ISBN 078949616X | 03 Nov 2003 | 8+ years

Culled from the archives of DC Comics, Wonder Woman: The Ultimate Guide to the Amazon Princess details the amazing exploits, incredible adversaries, and magical weapons of the greatest comic book heroine. Packed with original comic book images and a timeline charting Wonder Woman's entire career, this comprehensive illustrated treatment will delight fans of all ages-and win over many new ones.
 May 11, 2003 | CBG: Catching up with Giordano

From COMICS BUYER'S GUIDE #1540 (23 May 03)
CATCHING UP WITH DICK GIORDANO
written by George Nelson
as published in COMICS BUYER'S GUIDE #1540 (23 May 03)
websites: www.comicsbuyersguide.com and www.futurecomics.com

(excerpt)

Though several of the revamps that followed were successes for DC - George Pérez's Wonder Woman represented one of the few times the characters sold well, he remarked - the fixes in some cases created as many problems as they solved.

"I have to admit that, after Crisis was over, I wasn't watching things as closely and we got new continuity glitches built in by the writers and editors who were there," he said.

Giordano said that one mistake he made was not following writer [Marv] Wolfman's suggestion to restart the entire line with new first issue following Crisis. However, he said he didn't feel that he had the creative personnel for such a comprehensive relaunch.
 April 30, 2003 | WW Movie in Early Pre-Production

From Wizard
REEL WORLD: Wizard's guide to the coolest upcoming comic-related movie projects
Wednesday, April 30
written by The Wizard Staff

(excerpt)

Wonder Woman (Warner Bros.)

MAJOR PLAYERS: Joel Silver (producer), Becky Johnson (screenwriter)

RELEASE DATE: In early pre-production

PREMISE: An Amazon princess born and raised on Paradise Island far from the eyes of men, Diana becomes protector of the free world. Possessing the strength and beauty of the Greek goddesses Aphrodite and Athena, she is Wonder Woman!

THE LOWDOWN: While still in the early stages of production, producer Joel Silver assures fans that a Wonder Woman film will definitely come to fruition; it's just a question of when and who will play the Amazonian goddess. "We're going to make 'Wonder Woman' at some point," says Silver, who was quick to mention that the long-rumored Sandra Bullock won't be starring. "At one point, we talked to her about it and she was intrigued with it. It's come a long way since then."

DID YOU KNOW: Sure, Lucy Lawless would make the perfect Wonder Woman. We'd take Sandra Bullock or even Catherine Zeta-Jones, but would you believe Kelly Osbourne has been rumored to be up for the role? Sources at Warner Bros. indicate Ozzy's foul-mouthed offspring actually had a screen test. God bless the personal trainer who's recruited to whip Osbourne into shape!
 February 6, 2003 | Wonder Woman and Virginity

From Sequential Tart
Oh, The Wonder of Her Virginity
February 2003
by Rebecca Salek

Wonder Woman, Sex, An Island Fulla Maybe-Lesbians, And What the Heck Is a Virgin, Anyway?

(excerpt)

When the series was relaunched in 1986 by George Perez, that origin changed only a little structurally; but the changes were profound mythologically. In the new series, the Amazons were created from clay by all the Goddesses of Olympus; they were the reborn souls of women whose lives were cut short by the violence of men; Queen Hippolyte herself had been murdered by an enraged husband millennia earlier. The Amazons made their home in the beautiful city of Themiscyra, but, while they interacted with men, theirs was a single-sex society. When Herakles (Hercules) and his men marched against the city, the Amazons were seduced, tricked, defeated, chained, slaughtered, and raped. The Goddesses freed the Amazons, who then turned on their attackers. But the Amazons' freedom had a heavy price: they were exiled to a distant island where, in exchange for watching over an ancient evil buried by the Gods, they were granted eternal life and eternal youth.

How, then, to understand the Amazons? How do we define them sexually? Can they be understood as strictly heterosexual or strictly homosexual, as we define the terms in our two-gender world? Or even bisexual?
 January 1, 2003 | Wonder Woman: The Movie in 2005

From Movies.Yahoo
Wonder Woman
Greg's Preview

(excerpt)

Release Date Notes: (7/25/02) This will probably be a summer tentpole release of whatever year it's eventually slotted for; as of this writing, with it expected to follow Batman vs Superman, the earliest it's likely to be seen is in 2005 or later.

Based Upon: The long-running and popular superheroine, as published by DC Comics. This will be the first feature film about her, although there was a flurry of activity on TV in the 1970's. First, Cathy Lee Crosby starred in a 1974 telefilm. A year later, Lynda Carter starred in another telefilm that placed Princess Diana in World War II (where she got her start in the comics), which became a popular TV series that aired in 1976-1979. 1977 brought a move from ABC to CBS, and a modern setting. Oh, and Debra Winger's career pretty much started with her supporting role as Wonder Girl in three episodes in season one. NBC was considering a new TV series in 1998, but scrapped it.

Official Site: WonderWomantheMovie.com (probably won't be active until filming gets started, someday)

(Vu: As of this writing, this project isn't based on anything created by George Pérez, but it should be interesting to see.)
 October 25, 2002 | Wizard: The Ultimate Move

From WIZARD #135 (Dec 2002)
THE ULTIMATE MOVE
written by James McDonough and the WIZARD staff

Should it or shouldn't it? With controversy swirling, WIZARD lets loose the 10 reasons why Marvel should 'Ultimize' its entire universe.

(excerpt)

10. IT'S BEEN DONE BEFORE DC's been there done that. Way back in 1986, DC Comics was in a similar fix. After half a century, their heroes had grown stale and their universe convoluted. With the multiverse epic Crisis on Infinite Earths, DC streamlined its entire line, ushering in a series of unheard of relaunches for its most popular heroes.

"I wouldn't have read DC Comics if it weren't for Crisis [and relaunches]," reveals JSA co-writer Geoff Johns. "It made a lot of their books really strong again. I became a DC guy because I started right on the heels of all those relaunches and #1s."

With Crisis' conclusion, big-name creators like John Byrne and George Pérez overhauled DC's icons with updated origins. The move proved so controversial that it created a media sensation, getting coverage from print, radio and television. Byrne's Man of Steel rebooted the Last Son of Krypton's entire history from square one. The mini-series starred a younger, less experienced Superman learning the ropes and confronting villains for the first time- basically an Ultimate Superman.

The book was a resounding success and DC quickly followed suit with Frank Miller's Batman: Year One opus, where a rookie Dark Knight used terrorist tactics on criminals. Pérez re-established Wonder Woman as comics' premier heroine by imbuing her with a deep sense of Greek mythology.

[ Read more in WIZARD #135 (Dec 2002) ]
 October 7, 2002 | Stopping the Bonze Age

From COMICS BUYER'S GUIDE #1509 (18 Oct 02)
STOPPING THE BRONZE AGE
published in COMICS BUYER'S GUIDE #1509 (18 Oct 02)
written by Craig Shutt

Gerry Sorek and Dave Blanchard argued that it was actually Crisis on Infinite Earths #1 (Apr 85) that ended the Bronze Age. Gerry noted that DC "was changing direction and leaving the past behind and creating a new version of things (whether they were completely successful or not). This was the first of several companies' retooling projects, leading into a new era." As a result, he says, it indicates "a fitting place to mark the end of that previous time period."

…

I understand their point, because Crisis certainly was a change, and a new ages are invoked by great change. But I believe the changes added more superhero excitement to what was there; it didn't stop it. Sure, to a long-time fans who had embraced the multiple Earths and loved the characters as they were, the changes could have been a disappointment and even a betrayal. But in the last 10 years, I've heard a lot of fans say they returned to reading comics because of Crisis.

Comics' ages are about excitement and about super-hero comics. That's how both the Golden Age and the Silver Age claimed their names, and it's why another age would lay claim to the title of Bronze Age. And the bottom line is that Crisis (and Secret Wars before it) added excitement and new fans to super-hero comics.

Besides, Crisis actually didn't change too many characters. It killed some of the duplicated Earth 2 characters who had caused confusion (mostly for editors). It also passed the Flash mantel to Kid Flash. But the major DC reboots didn't occur during or as a result of Crisis.

Only Wonder Woman truly was rebooted based on events from Crisis, and it took one year before her new #1 (Feb 87). Superman was rebooted a few months after Crisis, in the Man of Steel mini-series, but it just happened with no precursor (negating Supergirl's Crisis sacrifice and making the effort to revert Wondie to clay for a fresh start seem wasted)….

[ Read more in COMICS BUYER'S GUIDE #1509 (18 Oct 02) ]
 July 12, 2002 | Amazon Princess

From Sequential Tart
The Amazon Princess (May 2002)
by Tony Wolf

(excerpt)

It's proven hard for Wonder Woman to sustain her own comic book and to keep sales high. However, the 1980s began a new era of potential greatness for our Amazon Princess. George Perez's now-legendary reboot, following on the heels of John Byrne's famous Superman reboot, was perhaps the most successful interpretation of Diana. Incorporating her Greek mythology roots, addressing her non-superhero nature and instead emphasizing her frustration at being an ambassador of peace who was frequently forced to battle evil forces, Perez's run was truly great for about the first twenty issues or so. Then Perez turned the art over to someone else, and somehow the writing seemed to stray a bit from there on.

But Perez also gave Diana an intriguing new supporting cast, full of complex characters (mostly women). He gave Diana a publicist, the ill-fated and complex Mindi Mayer. He gave her Julia Kapetilis and her daughter. He showed Diana speaking at the UN, as well as designing outfits for her that emphasized her regal, classical status over her swimsuit attire. I think most writers agree that it's hard to take Wonder Woman seriously when she's wearing a swimsuit that we all try to accept is supposed to be battle armor.

Perez emphasized the Amazon heritage and showed us the society on Paradise Island. He re-imagined classic WW villains like Cheetah, Dr. Psycho, the Silver Swan, and introduced Circe and Ares, the God of War, as primary new adversaries. He gave us a fun twist on the Steve Trevor/Etta Candy relationship, and gave us some fascinating reasons why an Amazon warrior's costume would sport such distinctively American symbols.

But Perez's great run on the book (sales of which were high, if I recall correctly) soon withered, and by the '40s, vol. II of Wonder Woman had fallen back to its usual status: a book few paid attention to. Despite some interesting story ideas (one tale featuring Eris, Goddess of Discord, and her famous apples, was commendable), WW seemed to be mediocre once again.

[ Read more The Amazon Princess ]