DC COMICS TRADING CARD #29: STARFIRE
Sep 2007
$0.00
Rittenhouse (scifihobby.com)






Related
DC Comics Legacy Trading Card
posted Feb 25, 2009 8:09 PM by vu sleeper [ updated a minute agoFeb 25, 2009 8:11 PM ]
From 
www.scifihobby.com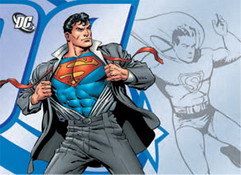 Released On:
09.26.2007
SRP Box $84.00
Checklist
This September Rittenhouse Archives presents the first DC Comics Trading Card Set to feature SUPERMAN, BATMAN, WONDER WOMAN, GREEN LANTERN, FLASH, AQUAMAN, and other legendary DC characters as they have appeared in comic books from the 1930s to the present! This limited product run of
10,000 boxes
will include a stunning 50-Card Base Set will feature UV-etch printing to bring each character's rich history to life!
Each box of this ground-breaking series will contain ONE hand-drawn colored Sketch Card - a first for any DC trading card series!
| | |
| --- | --- |
| 11 | Cyborg |
| 24 | Raven |
| 29 | Starfire |